Trade Show Success Strategies

How to Elevate Your Exhibiting Results
Welcome to Trade-Show-Advisor.com. This guide for trade show success is designed to help you benefit from all aspects of event participation.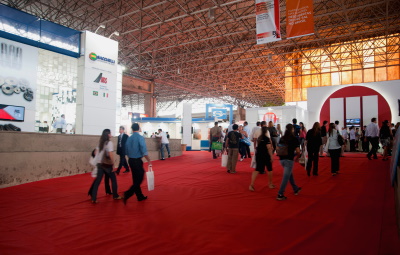 Exhibiting at targeted shows provides an opportunity to enhance brand visibility, promote new and existing products, generate leads, and drive incremental sales.
Trade show participation also enables you to stay on top of the latest industry trends, gain competitor insights, make key industry contacts, and further solidify relationships with current customers.
The articles and resources on Trade-Show-Advisor.com are provided to help exhibitors, business owners, and marketers leverage all facets of show involvement. 
Whether you are participating in a major international trade exhibition, an annual industry event, or a local trade fair, you'll gain insights into proven strategies and actions to optimize trade show success. 
Identify the most opportunistic trade shows that will get your company and products in front of large numbers of potential buyers. Strategically selecting the right shows is the first step in fully leveraging the impact of your resources, time and use of trade show exhibits.
Evaluate booth sizes, available locations, and rental fees for the shows you are interested in attending. Consider logistical needs and travel costs, as well. These factors will help determine the best options for your marketing and budgetary needs.

Learn about different types of trade show exhibits and that match your show needs and marketing budget. This includes styles ranging from pop up displays and tabletop styles to tension fabric trade show displays, truss exhibits, and custom-built systems.  
Enhance appeal and  function with striking graphics, banner stands, booth accessories, lighting, and fixtures. Just like selecting the right shoes to go with a well-made business suit, having the right booth elements add polish to your exhibit design. An effective exhibit will reinforce your brand positioning, reflect your key messages, and resonate with your target audiences.
Discover unique booth ideas that create buzz at the show venue and attract more prospects to your exhibition stand. These traffic generators range from visitor experiences to arresting visuals and innovative technology in your exhibit area. You also will gain insight into selecting appropriate giveaways or promotional products that have high-perceived value and complement your company image.
Put into action powerful marketing initiatives before, during, and after the event that engage potential buyers and generate sales. This includes ensuring team members who are staffing your trade show booth are well-trained to represent your company and sell to potential buyers. 

The information and resources provided on this site are designed to be practical and instructive to help you maximize trade show success. If there is other exhibiting-related information you would like to see on this site, please contact us and share your input.

---
Industry Resources and Suppliers
Maximize Trade Show Success

Trade Show Associations
Enhance trade show success by tapping the resources provided by trade show organizations around the world. When you join an industry association, you have access to a wealth of resources, research, contacts, trend information and more.
Trade Show Resource Directory
Find suppliers, resources and contacts in this directory to enhance your effectiveness at trade shows. Categories include exhibit display suppliers, promotional giveaways, booth attractions, marketing tools, and more.
Camelback Displays - Your One-Stop Exhibit Provider
We are here to help you build, organize, and execute the perfect marketing experience for your next trade show or business event. Our trade show experts will ensure you have everything you need from custom trade show displays to portable exhibit booths. 

Trade Show Advisor Blog
Includes the latest news, trade show resources and articles to help exhibitors maximize trade show success.

Trade Show Ideas
Unique trade show ideas and promotional concepts can help make your exhibit a sought-after destination for trade show visitors. Read about marketing ideas that make an impact.

Targeted Lists for Email and Postal Mail Marketing
Source mailing lists from independent email and postal list suppliers. Simply complete a short form with your requirements and you will receive free estimates from different list companies. This service is provided by BuyerZone and there's no obligation to make a purchase.

Drone Photography and Video Services 
Add impact to your trade show display and exhibit graphics with stunning aerial images or video. Hire the services of Sowder Drone Photography to capture aerials of your company headquarters, properties, events, and more. FAA licensed and insured. 
Click here for more trade show resources and suppliers >>