Trade Show Marketing Tips
Using Personas to Evaluate Exhibit Impact
When trade show managers put on their "marketer hats," it forces them to look at their display exhibit with fresh eyes. They immediately see whether too much information is given or not enough information is given – or even worse – whether their display might be attracting the wrong customer entirely.
A sure way to know if your trade show displays, trade show table covers and signage are working in your favor is to develop "customer personas." Personas are a living description of your target audiences: their personality, attitudes and buying behaviors. 
Through personas, you will be able to infer what motivates your prospects and how they may respond to specific messages, information and visuals. More importantly, through personas you can identify what your target audiences need to accomplish during their trade show experience.
Popular Strategy in the 90s
Personas became popular in the 1990s, as a way to help large advertising agencies and product developers better understand and identify with their target audiences. Since then, fictitious personas have helped companies of all sizes put a human face on otherwise abstract data about potential customers. Here's how to create personas and use them as a trade show marketing strategy. 
How to Create Customer Personas
Because customer personas are living descriptions of your target audiences, you'll want to give each person who represents a target a name and photo. Then, conduct a brainstorming session with your trade show marketing team to answer the following questions:
What is their personality, values and possible attitude toward your brand, product or service? 
What is the task they want to accomplish with your product or service?
What is the information they are looking for while attending trade show?
Where are they in the buying cycle?
What information do they need to see?
How to Use Personas - Trade Show Marketing Tips
Use of customer personas will help you avoid targeting the wrong attendees and help you convince the right attendees that your company's product or service delivers exceptional value. To accomplish this, you need to incorporate the personas into your trade show marketing meetings. Reinforce to your sales team and booth personnel how to use the personas and identify your best customers.
Transforming Your Exhibit to Appeal to Personas
Ask yourself whether your targets need to be educated about your product or service, or whether they just need quick sounds bites and/or product comparisons because they have already done their homework. If they need to be educated, make sure to have mounted and pop-up trade show displays that show product features and benefits. If possible, feature live product demos in the booth or streaming video displayed on large-screened monitors.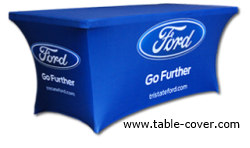 Since trust and the reputation of your company are always important to a prospect's decision-making process, make sure your corporate identity and brand is highly visible on all your trade show table covers, booth walls and signage.
On-brand table covers can help reinforce the value of your brand. Consider choosing a full color, 4-sided polyester table drape for the most professional and vibrant look. And consider a full color, 3-sided table throw if your staff plans to sit behind the table. Logos, images and marketing messages can all be easily printed on polyester, nylon and vinyl table covers thanks to the latest digital print methods.
Related Information - Trade Show Marketing Tips
More Trade Show Marketing Tips and Ideas
Trade Show Accessories and Fixtures
Trade Show Exhibit Displays
Trade Show Resources
Trade Show Ideas
Trade Show Advisor HOME

›
Trade Show Exhibit Display
› Trade Show Marketing Tips
Article:  Trade Show Marketing Tips