Trade Show Convention Coordinator
Key Roles AND Responsibilities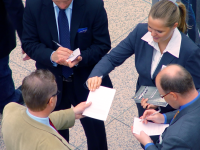 A trade show convention coordinator is responsible for ensuring all aspects of a conference and trade show event are well-planned and run smoothly. To perform effectively, extraordinary organizational, communication, and diplomacy skills are a necessity.
Wearing many hats comes with the territory. The show coordinator typically oversees all facets of the event, including:
Securing the trade show venue


Arranging accommodations and transportation for participants
Setting up a system and managing the registration process
Making arrangements for food and beverage service
Determining arrangements for exhibits and displays


Ordering directional signage and audio visual equipment


Handling the marketing and promotion of the event


Evaluating the event after its completion
In addition, responsibilities often include financial oversight of the show's budget and formally reporting results to the event sponsors.
Work days are hectic, varied and require the ability to manage a multitude of tasks at the same time. Weekends and evenings can be the norm - especially during the weeks that lead up to scheduled shows.
Often, the coordinator's work week may exceed 40 hours, depending on the number of trade shows planned and the timing relative to these events. There will be times of the year when the individual may need to be accessible by phone in the evening hours, as well as during work days.
Yet, this important position can be exhilarating, fun and fulfilling for the right high-energy person.  Dedication and passion for the work at hand are key attributes for a career coordinating trade shows.
The event coordinator may report to a designated events manager, show organizer, marketing department head, public relations manager, sales director or similar managerial position within an organization or for a facility.
Considering the wide array of responsibilities and the essential nature of the position, a trade show coordinator is always at the center of the action.  After all, this role is crucial to an event's success and often an organization's reputation.
Related - Trade Show Convention Coordinator
Trade Show Employment 
Trade Show Management for Event Planners 
How to Work with a Trade Show Organizer 
Trade Show Staffing 
Staff Scheduling for your Convention Display
Trade Show Advisor HOME

›
Find Tradeshow Jobs
› Trade Show Convention Coordinator