Exhibition Stand Design
Designing a High-Impact Exhibition Stand in a Small Space 
When you think about an attractive stand, what springs to mind? Is it a big double decker structure with visual effects and interactive gadgets for people to try?  Or is it a smaller, more personalised stand with roller banners and pop-up stands or graphics as a backdrop? 
Of course, budget is a key factor in the type of exhibition stand you choose. Yet, no matter the size, configuration or gadgets, the main aims for a stand are to effectively deliver your brand message and capture audience attention in the convention hall.
As long as you achieve your exhibiting goals, size doesn't matter, according to exhibition stand expert James Gibbins of ExhibitionStands.co.uk and PopUpStands.co.uk. Yet, it is essential to choose a talented creative designer who understands what you want to achieve with your stand and can incorporate all relevant elements you require.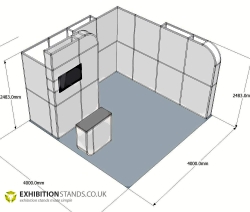 Mr. Gibbins says a professional designer should always provide detailed illustrations and/or three-dimensional visuals for your review before graphics are developed and the stand is produced. The visuals should provide multiple views and specific measurements. You should also see examples of lighting, colors, finishes, flooring and more.
It may take a few drafts before you are happy with the layout, design and fixtures. Yet, it is far better to get the design exactly right in the planning stage – rather than watching your display being built and wondering if that lighting would work better at the other end of the stand. 
A common misconception of exhibiting is you need the biggest stand space at the show to attract the most attention. This is not the case. A small shell-scheme space can be turned into an eye-catching display that can attract just as many visitors as a large stand-alone structure. 

Lighting has a huge impact on a stand and is an essential element for your check list when designing your stand.  Another important component to carefully consider is graphics. They need to be bold, bright and eye-catching to attract visitors from all corners of the exhibition hall. They also need to coordinate with your organization's colors.

Pay attention to the length of your text on your banners. If you have too much text on a graphic panel, it can look busy or messy and won't get the message across properly.
Other design elements to consider are:
Header panels
Flooring
Furniture
TV screens

Shelving and storage (i.e. lockable cupboards)
Literature racks to display brochures and leaflets 
Counter tops 
Plants and flowers
For example, if you have a small space of 3m x 2m, consider incorporating the following elements for high impact and appeal.

Lots of lighting to ensure your stand is bright and welcoming
Bold graphics that attract attention
Large text that delivers your brand message
Quality, rich finish colors for racks, tables and shelves
Curved walling that provides interest and softens the boxy frame of the stand 
Strong header panels with a large company logo the enables your company to be noticed from afar 
Attractive stand accessories including fresh flowers
When you purchase your booth space, confirm that your stand area is in a highly visible location in the hall. Before you begin the design process, ask show organisers how high you can build your stand. Height will vary depending on the venue and where in the hall you are positioned. 

If you have a high-standing structure, take advantage of the height to display your logo and gain attention. Truss can be used to create a stunning top header bar, which can hold a rotating sign that is a sure-fire way of being seen from all corners of an exhibition hall.
The key to it all is to find an experienced designer with lots of imagination who can assist you with the evolution of your stand. With a visually arresting stand that projects a strong brand image, your exhibition staff will have the right setting and tools to attract prospects and make sales.
Related Information - Exhibition Stand Design
Trade Show Booth Graphics
Working with a Designer to Develop Your Booth
Selecting a Trade Show Booth Designer 
Five Fundamentals to Magnetic Booth Design
Effective Trade Show Exhibit Design Strategies
3 Questions to Ask Before Starting Your Booth Design
Create Winning Graphics for Your Exhibit
How to Create Show-Stopping Graphic Design
Keys to Effective Booth Design
Design Tips for Your Exhibit Display
Tips for Effective Trade Show Graphics 

Trade Show Advisor HOME

›
Trade Show Graphics
› Exhibition Stand Design