Tips for Choosing a
Tradeshow Exhibit Design Company
Hiring a company to help you with your tradeshow exhibit design takes careful research and evaluation. After all, if you are going to be successful with your tradeshow strategy, you need a striking display that reflects your company image. 
Your exhibit must be designed to attract attention in a matter of seconds and, at the same time, persuasively communicate your sales message. It must also be built with a layout that allows you to meet and greet prospects in a customer-friendly way.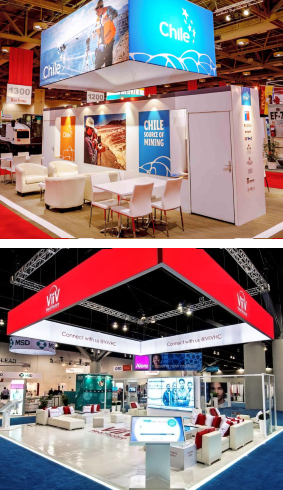 Examples of custom exhibits produced by Reveal Marketing Group.
Types of Tradeshow Exhibit Producers

Full-Service Exhibit Producer/Designer Firm 
Exhibit Builder 
Independent Design Firm Specializing in Merchandising and Displays
Marketing or Advertising Agency 
As you can see from the list above, not all exhibit design companies provide all exhibit-related services. Moreover, expertise and talent from one firm to the next can vary significantly.
You many find that many may contract design, construction, and graphics to fully support customer needs. In this case, the exhibit company will assign and oversee all work that is outsourced on the client's behalf.
To begin your provider selection process, consider visiting a trade show or two and talk with exhibitors in non-competing fields who have displays that appeal to you.
Or, you may want to identify exhibit producers by contacting professional organizations, asking your chamber of commerce for company names, or getting referrals from colleagues.
Once you have a list of three to five potential exhibit suppliers, take the time to contact each one to learn more about their services and expertise. 

Ask these Questions to Begin your Evaluation
What are the company's capabilities and specialities

How long have they been in business
How many clients do they serve
Where are they located
Typical turnaround for producing and shipping a display
Number of people on staff
Services they may contract to others
Whether they offer guarantees

A list of past clients for reference checking
In addition, try to get a handle on whether each company has a pulse on exhibition trends and technology advances. This will help you determine whether firms are forward thinking and creative in the way they approach their business. This will have an impact on what they produce for you.
The next step is for you to cull your list of prospective suppliers to two or three, based on the input you've received and what you've learned. Check references on your top choices.
Then, ask each firm to submit a proposal that details their approach to developing your exhibit design, based on a set of guidelines or parameters you give them. Note that the proposal doesn't request specific design work.
You should be asked the type and size of events you plan to attend with your exhibit, your objectives for trade show participation, exhibit and space requirements, budget, design requests, etc.
Then schedule an appointment with each firm and have the principals present their proposal to you. If the exhibit producer is not local, schedule a conference call to review the proposal. During your meeting or call, ask more questions and seek their perspectives on what you need to maximize your success. Ask to see examples of their work for current and past clients. Afterwards, you should be able to make a thoughtful decision on which tradeshow exhibit design firm is best for you.
Get Free Exhibit Display Quotes

It's fast, easy and there's no obligation to buy.




Get free estimates from independent, pre-screened suppliers of tradeshow exhibits, displays, banners, and booth accessories through BuyerZone.com. Simply complete BuyerZone's no-obligation request form below. Related Information - Tradeshow Exhibit Design
Booth Design and Graphics
Working with a Designer to Develop Your Booth
Five Fundamentals to Magnetic Booth Design
Effective Trade Show Exhibit Design Strategies
3 Questions to Ask Before Starting Your Booth Design
Create Winning Graphics for Your Exhibit
How to Create Show-Stopping Graphic Design
Keys to Effective Booth Design
Design Tips for Your Exhibit Display
Tips for Effective Trade Show Graphics
How to Create an Eye-Catching Exhibition Stand
Graphic Design "Boot Camp" Tips for Event Marketers

Banners
Create Striking Trade Show Banners
Versatility of Banner Stands
Trade Show Banner Stands

Enhancing Booth Elements

Using Fabric Graphics
Working with Trade Show Florists
Outdated Booth: Should you Refurbish or Buy New?
Care & Handling of Popup Display Graphic Panels
Trade Show Advisor HOME

›
Tradeshow Booth Graphics
› Tradeshow Exhibit Design Company