Trade Show Entertainer
A trade show entertainer doesn't just create an enjoyable atmosphere at your booth. An experienced professional works in tandem with your sales team to deliver key information about your company or product to potential customers. While booth visitors are attracted to your exhibit by the entertainer's unique or amusing presentation, they are also absorbing key product information about your offerings.
Booth performers are experienced at working with companies of all sizes to ensure the right image and message is appropriately incorporated into the booth show. They also know how to work the crowd and help generate leads, with proper preshow planning.
There are a full range of trade show booth entertainers that you can hire. Some examples include the following.
You'll often see crowds around trade show magicians in an exhibition hall. These professional develop unique magic shows that incorporate your product and appeal to the type of visitor you are trying to attract to your booth. With pre-planning, a professional trade show magician can serve as an extension of your sales team in how he or she promotes your product in exhibit performances.


Comedians are also popular among trade show attendees. Their unique humor and appeal to the audience can help drive traffic to your booth, as well as enhance awareness of your company and products. Meeting with your professional entertainer prior to the show to educate him or her on your product benefits and attributes will allow him or her to incorporate key product messages into the booth show.


A balloon sculptor can create designs that incorporate your company name, brand colors and even the shape of your product. At the same time, the balloons can deliver a sales pitch to a captive audience and be visible as they are carried throughout the exhibition hall.


Using a caricature artist offers the opportunity to give potential buyers a permanent advertisement of your business since they will like want to keep and even frame their caricature. Artists can draw their creations on paper that features your company's name, logo, address, and phone number. Plus, you also have time to talk with that client at your booth while the artist is working.


Musicians, fortune tellers, celebrity impersonators, news personalities, and even pool trick-shot artists are possible attractions to consider.
Maximize Impact from Your Booth Entertainer
To ensure you fully benefit from hiring a professional booth entertainer, you need to carefully screen a variety of professional before contracting for serves. Your contracted entertainers must be adept at appropriately incorporating key points about your product into their 'acts' to enhance awareness and interest in your offering.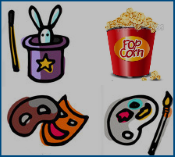 At the end of the entertainer presentations, it is important for your booth team to engage booth visitors in conversation, identify viable prospects and collect lead information. 
In addition, it is essential to have preshow planning meetings (even by conference call, if necessary) to impart information about your products, discuss performance strategies, determine timing and coordinate efforts.
You can find entertainers through web searches, directories, professional and trade associations and by contacting event and conference professionals.
Related Information - Trade Show Entertainer
Trade Show Magicians
Trade Show Booth Ideas
Strategies to Attract Booth Visitors
Trade Show Giveaways
Effective Promotional Items
Putting Games 
Trade Show Booth
Tips on Magician Hiring
Types of Trade Show Entertainment

Trade Show Advisor HOME

›
Trade Show Magicians
› Trade Show Entertainer