BENEFITS of Fabric Display Stands
Fabric Display Stands Provide Impact and Flexibility

Traditionally, exhibition displays have consisted of a frame with printed graphic panels placed onto the frame in pieces. In recent years, however, advances in technology have led to a shift to printed fabric graphics. Produced in one piece, they allow for more flexible stand shapes and are easier to store and transport when not in use.

From tensioned fabric stands to table cloths and flags, the amount of branded equipment that can be produced on fabric material is highly attractive – and the print technology is only getting better.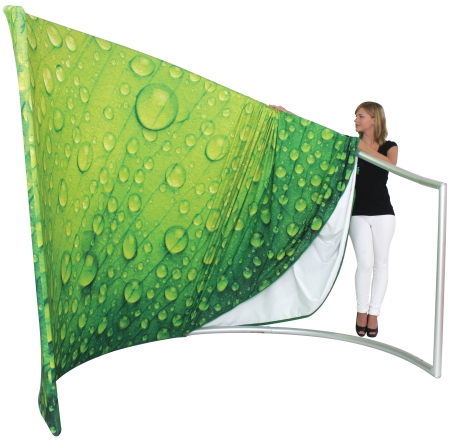 Tensioned fabric curved back wall
So are fabric displays the new king of exhibition graphics or will the print quality on traditional media win the day?

Let's start by looking at the construction of the most common types of fabric stands on the market today. They generally consist of a 30mm lightweight round aluminium tube frame that simply pushes together.
The graphic is then printed using high-quality dye sublimation printing onto a fabric that has a slight stretch. Once printed, it is sewn into a"'pillowcase" shape with a zip on one side thatis pulled over the frame and zipped up.

The fact that the fabric can be shaped easier than traditional graphics means it is becoming an attractive alternative choice for a wide range of exhibition products, from pop up stands to roller banners and everything in between.

Although tensioned fabric stands have been on the market for a few years, the demand and usage have been slower than expected, which is surprising when considering the many benefits to the exhibitor.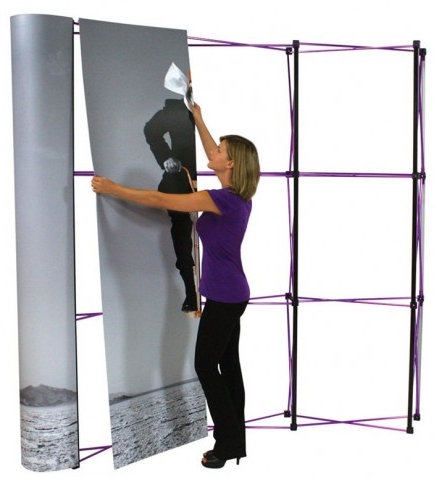 Traditional pop-up stand with graphic panels
Benefits of fabric display frames:

Frame is hidden from view so no distraction from your marketing message.
Robust 30mm aluminium that is lightweight and easy to transport.
No parts to lose, so no last minute panics when you get to the show.
Quick and easy assembly - no need for staff training.
A sturdy frame that will last years with easily replaceable parts.
Unusual shapes and curves that attract attention. 
Benefits of fabric graphics:

Dye sublimation printing is vibrant and extremely durable.
One piece graphic - no need to align individual panels.
Graphic is 100% recyclable.
Folds down and lightweight for easy transport and storage.

Rather than buy a new stand just purchase a replacement graphic.
Fabric is slightly elastic so no creases.
If fabric stands are such a great product and superior to traditional pop up stands why has there not been greater interest?
One reason may be awareness, particularly for first-time exhibitors since there is limited exposure to  fabric material when purchasing online. Without the first-hand experience of putting up a pop-up and a fabric display side by side, it's hard to appreciate the benefits.

Price also plays a factor, as fabric graphics and stands tend to cost 20% more than other options. Yet, as more companies start selling fabric stands, the price should come down and be more competitive.
From the exhibitor's point of view, traditional pop up stands have served the exhibition industry well for over a decade so if it isn't broke, why fix it? This in turn leads to display suppliers not featuring fabric stands as prominently on their websites and brochures. 

For equipment suppliers, there is also the consideration of cost. To produce a backdrop as a tensioned fabric stand you need a fabric printer that is capable of printing at least 2.5m wide, a calendar for roll-to-roll sublimation transfer, and a large cutting and finishing area with sewing machines. In addition you will need to train staff in the art of fabric finishing. This can represent a considerable investment if a print studio is not set up for it already. 

The investment by exhibit providers is continuing to increase. If fabric displays become a disruptive force in the exhibit industry, they likely will be promoted more aggressively and take over as the portable display of choice.
While you can't go wrong with a traditional pop-up stand,  fabric displays are becoming an increasingly attraction option. As the cost comes down, more and more exhibitors will switch to fabric and wonder why they didn't sooner.

---------- 
This article was written by Aaron Inglethorpe of Discount Displays, a leading supplier of display products and exhibition stands in the UK. 
Related Information - Fabric Display Stands
Advantages of Digital Signage
Integrating Tablets with Your Display
Benefits of Modular Displays
Advantages of Portable Displays
When to Use a Tabletop Display
Pop Up Trade Show Displays
Determining Exhibit Space Requirements
Advantages of Portable Displays

Trade Show Advisor HOME

›
Trade Show Exhibit Display
› Fabric Stands