Using Tablets in Your Display Area
Since the release of the original iPad, the exhibition display industry has embraced tablet technology as a valuable tool for product education and customer interaction.

Benefits of Using Tablets in Your Trade Show Setup
When promotional needs, storage and transport space are key considerations, the tablet is an ideal solution. The ability to easily move a tablet around your exhibition display is invaluable. 
Capturing the interest of potential customers is the difference between success and failure at your trade show. Using tablets in your display area enables you to present your customers with promotional videos, interactive games and intuitive sign ups, whilst taking up very little stand space real estate.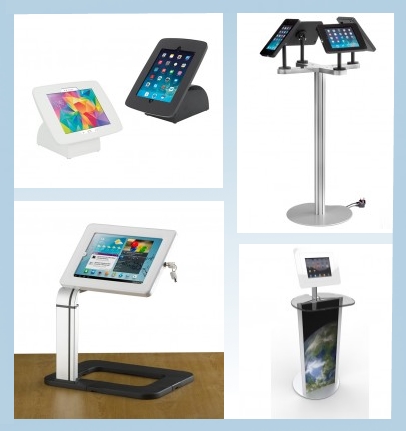 Also, if you find your staff tied up and customers waiting, a well placed tablet can be a great way to keep the waiting people engaged with your stand. In addition, a tablet provides the opportunity to capture visitor data before prospects engage with a member of staff.

One of the best reasons for using tablets in your display is the support from third-party apps that help with everything from planning your trade show, capturing customer data, on-site sales and connecting with your various office based systems.
Access to tablets in your exhibit area allow your staff to easily deploy real-time social media marketing with posts that drive booth traffic.

Types of Tablet Displays 

The range of stands and holders for tablets is ever-changing to adapt for new model releases and presenting new ways in which to engage customers. The varieties of tablet holders are freestanding, wall mounted and counter mounted – and each type comes with a plethora of options.
Freestanding tablet stands are ideal for customer engagement and should be located towards the front of your exhibit display. They often come with the option to add a custom printed front panel to extend your branding and/or display theme.

Wall mounted tablet holders are used in more permanent locations. They can also be attached to certain types of trade show stands and are a great focal point for customer sign-ups or for eye-level promotional videos.

Counter mounts can be used on trade show tables and counters, often with the ability to secure the mount to the flat surface. Most have 360 degree swivel functions, enabling both your staff and the customer to interact with the screen.
Key features across the range of tablet displays include the ability to secure and lock the tablet, the ability to rotate and swivel the tablet and cable management solutions. Also be careful to check that the holder you are choosing is compatible with your tablet model. 
Related Info - Using Tablets in Your Display Area
Trade Show Fixtures
Trade Show Table Cloths
Exhibit Carpeting
Trade Show Accessories - Table Covers
Exhibit Display Cases
Exhibit Flooring Options
Trade Show Design
Tradeshow Literature Racks
Exhibit Space Requirements
Tradeshow Florists 
Trade Show Advisor HOME

›
Trade Show Fixtures
› Using Tables in Your Display