Trade Show Display Product

How Much Will You Expect to Spend?
As you think about your exhibit investment, think about trade show display product cost like you would think about the price of a car. You will pay much less for a basic compact car than for a luxury vehicle that really makes an impression and has all the bells and whistles. Similarly, there are many different types of trade show displays and they come in a wide variety of sizes and configurations.
The following prices are general in nature and can range significantly based on size, accessories, lighting and graphic. Yet they should give you an indication of what you can expect to pay. 
You may pay around a $500 to $2,500 (USD) or more for a table top display with attractive velcro-attached headlines and graphics. This type of exhibit works for small, local events or specialty fairs.
A 10-foot pop-up display with nice graphics and some booth accessories will run from $4,000 to $8,000 or more. You would typically use this type of booth for shows of regional and/or national scope.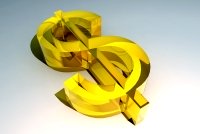 If you need a larger trade show display product with more features and accessories for major exhibitions, plan to budget at least $10,000. Custom-built trade show displays are the most expensive and can cost more than $30,000, based on your requirements.

If trade show participation is a vital sales and marketing strategy for your company or product, it may be well worth the investment to achieve your objectives. The costs in this article represent examples of what you might expect to pay. Costs may vary significantly based on your needs, geographic market, the exhibit company you select, and the components of your display.
There may be other options if your budget is tight. Trade show rentals and purchasing used trade show display products are viable alternatives and have the potential to save you significant cost.
Get a variety of quotes from reputable providers (see below) and research what is available before you make any purchase. If you decide to go with a rental or used trade show display, make sure you engage a graphic designer to help you adapt the booth so it effectively communicates your image and message.
Remember, your exhibit display serves as a direct, powerful reflection of the quality, reputation, and service of your company and its products. To help you achieve results, the display's visual impact must make a strong first impression and communicate your message in a matter of seconds.
Get Free Exhibit Display Quotes

It's fast, easy and there's no obligation to buy.




Get free estimates from independent, pre-screened suppliers of tradeshow exhibits, displays, banners, and booth accessories through BuyerZone.com. Simply complete BuyerZone's no-obligation request form below.
Related Information - Trade Show Display Product Cost
Trade Show Exhibits - A Primer
Create an Attractive Exhibit on a Tight Budget
Used Trade Show Exhibits
Advantages of Portable Displays
Booth Elements that Add Impact
When to Use a Tabletop Display
Pop Up Trade Show Displays
Choose an Effective Display to Match Your Budget
Advantages of Portable Displays
Tips on Using Table Top Displays


Booth Rentals

Benefits of a Trade Show Exhibit Display
Rental Booth Selection Tips
Why Rent a Tradeshow Booth?
Choices and Decisions for Renting a Booth
Renting vs. Buying a Custom Display
Trade Show Advisor HOME

›
Trade Show Exhibit
› Trade Show Display Product Cost